Alisha McLardy


Certified Pilates Instructor
Refer Alisha To A Friend

University & King
Registered Kinesiologist
Body Harmonics PILATES® Instructor
Fascial Stretch Therapist
TRX Suspension Training Instructor
---
---
Alisha is a Registered Kinesiologist, Certified Body Harmonics Pilates Instructor, Fascial Stretch Therapist certified through Stretch to Win Institute, TRX Suspension Training Instructor and certified to teach Spin through Rebook cycling.
Alisha found a passion for movement and the human body from a young age. Coming from a large family offered her the change to watch bodies evolve through their various stages of life. Eventually Alisha's curiosity led her to University of Waterloo to major in Kinesiology. With experience in teaching group exercise and personal training she knew there were still essential pieces missing in order to achieve a functional healthy body. After taking her first reformer class, Alisha realized the missing piece was the mind/body connection that Pilates provided. She is now certified through Body harmonics in Mat and Reformer Pilates with additional specialization courses taken in Pelvic floor and Low Back injuries. With her background in Kinesiology and detail to patterns of movement, Alisha found instruction in a rehab setting a natural fit. Alisha's practice boasts collaboration with a range of health care providers who work together to care for the needs of clients.
Alisha's goals with clients always comes back to a place that works towards functional movements that feel good. Striving to find a balance with challenging exercise and fine tuned movements helps keep her sessions a marriage of Pilates the art form and Pilates the movement. Assisting clients in finding freedom in their body helps Alisha to stay passionate about Pilates, encouraging them to take what they learn into day to day life. Alisha thrives on the ability of Pilates to empower individuals to gain self-awareness, break down faulty patterns and rebuild the body in a more functional place.
Outside of the clinic Alisha enjoys baking, cooking, riding her bike, doing Yoga and Pilates and getting outside to enjoy nature.
LOCATION:

University & King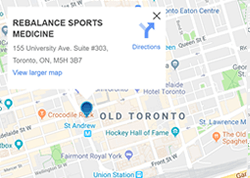 155 University Ave Suite #303T:
(416) 306-1111
E:
[email protected]