Alphonsus Chan


PT, FCAMPT, MSc(PT), Hons. BSc(Kin), CAFCI, CIDN

University & King
Registered Physiotherapist
Fellow of the Canadian Academy of Manipulative Physiotherapy
Certified Integrated Dry Needling
Certified Medical Acupuncture Provider
Active Release Therapy
Custom Orthotics
---
---
Alphonsus graduated from Queen's University in 2009 with a Master of Science in Physical Therapy after earning an Honours Bachelor of Science Degree in Kinesiology. He is a certified Manual and Manipulative therapist having completed his advanced training with the Orthopaedic Division of the Canadian Physiotherapy Association in 2015, the highest level of training in Orthopaedic Physiotherapy.
Alphonsus is fully certified through the Acupuncture Foundation of Canada Institute and utilizes medical and anatomical Acupuncture to treat many neuromusculoskeletal injuries. He went on to further his Acupuncture qualifications by obtaining certification in Integrated Dry Needling.  In addition, he incorporates his training from Active Release Technique (ART®), McKenzie Institute training for spinal dysfunction, Mulligan Concept, Sport Kinesiotaping, and The Orthotic Group seminars in a comprehensive approach to rehabilitation.
Alphonsus is a sports enthusiast. He is a competitive softball and football player, and an avid golfer. In a fast paced society, he understands the pressures of return to play and performing at a high level. With a decade of experience treating various injuries from amateur to professional athletes, Alphonsus has always maintained his focus on delivering individualized client-centered care. After diagnosing the root cause of the injury, Alphonsus will utilize a multimodal treatment approach to restore optimal health, incorporating core and corrective exercises in order to promote an active role in the rehabilitation process.
Alphonsus is also involved with the academic side of Physiotherapy. He is a clinical educator with the University of Toronto Master of Science in Physiotherapy Program and a clinical instructor for Physiotherapy Students completing their internship with accredited universities. He is also a mentor with the Orthopeadic Division of the Canadian Physiotherapy Association and University of Western Ontario for Physiotherapists pursuing their FCAMPT designation.
LOCATION:

University & King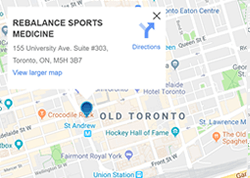 155 University Ave Suite #303
T:
(416) 306-1111
E:
[email protected]
---
INJURIES & CONDITIONS TREATED:
Elbow Pain
Back Pain
Nerve Pain
Ankle and Foot Pain
Tendonopathy
Muscle Strain
Muscle Imbalances
Sprain
Pre and Post Surgical
Fractures
Bursitis
Joint Dislocations
Repetitive Strain Injuries
AND MANY MORE…
---
---
---