Dr. Alwyn Wong – DC, BHSc Kin, Acupuncture
Dr. Alwyn Wong


DC, BHSc Kin, Acupuncture
REFER ALWYN TO A FRIEND

University & King
Doctor of Chiropractic
Medical Acupuncture
Active Release Techniques (ART™) Provider
Custom Orthotics
---
---
Alwyn knows that healthcare professionals can no longer hide behind their white coats and credentials and must adapt healthy lifestyle choices and set an example for their patients and clients. He is a health professional who practices what he preaches!
Dr. Alwyn Wong completed a Bachelor of Science in Kinesiology from the University of Western Ontario. He went on to continue his education at the Canadian Memorial Chiropractic College, earning his Doctor of Chiropractic. To continue to provide better care for his patients, he completed the Medical Acupuncture Program at McMaster University. In addition to completing over 8 years of post-secondary education, Dr. Wong continues to educate himself, taking courses such as Active Release Techniques®, Kinesiology taping and advanced nutrition courses.
Using an integrated treatment approach, Dr. Wong uses a combination of ART® (a patented soft-tissue technique), acupuncture, chiropractic, nutritional consulting and program design to treat his patients and clients, many of whom have included professional athletes from the NFL, NHL, NBA, MLB, and PGA, as well as Olympic, UFC and IFBB athletes.
Dr. Alwyn has also founded a company, Zona Health and Performance Inc, which has been training and certifying personal trainers since 2004.
His book, "The Kick Acid Diet", is currently available online at thekickaciddiet.com and at various retailers. It has been featured on Breakfast Television, Wylde on Health, Rogers Daytime TV, Canfitpro, Vitality Magazine, and The London Free Press.
Other publications include "The 28-Day Fat Loss Guide" in which Dr. Wong outlines 28 steps that will not only help you drop excess weight, but live a healthier and more energetic life. He is currently working on another fat loss book that addresses the relationship between hormone imbalance, blood sugar levels, hunger centres, and physical activity.
Dr. Wong has appeared on Breakfast Television, Rogers Daytime, Wylde on Health, as well the Janet Jacks Radio Show on CHML. His work has been featured in Vitality Magazine, The London Free Press, and CanFitPro's bi-monthly member magazine. Dr. Wong has presented at the world's largest fitness symposium, CanFitPro.
LOCATION:

University & King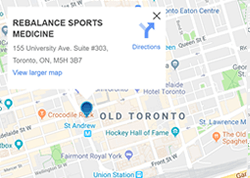 155 University Ave Suite #303
INJURIES & CONDITIONS TREATED:
Elbow Pain
Hand & Wrist Pain
Back Pain
Ankle and Foot Pain
Nerve Pain
Muscle Strains
Sprains
Muscle Imbalances
Tendonopathy
Pre and Post Surgical
Fractures
Bursitis
Joint Dislocations
Osteoarthritis
Repetitive Strain Injuries
AND MANY MORE…