Christiaan Collarile


BSc(Kin), M.OMSc

University & King
Osteopathic Manual Practitioner
Manual Therapist
Member of the Ontario Osteopathic Association
---
---
Christiaan is a certified Osteopathic Manual Practitioner in Ontario, and a professional member of the Ontario Osteopathic Association (OOA) and Osteopathy Canada (OSTCAN). From a young age, Christiaan has participated in different sports of all levels. Predominantly, Christiaan played representative hockey his whole life and played varsity football for Western University. In 2016, Christiaan obtained his Bachelor of Arts, Honours Specialization Kinesiology degree from Western University.
During his time at Western, Christiaan sustained two major knee injuries, which required surgery, and this is what led him down the path to becoming an Osteopathic Manual Practitioner. After university, Christiaan then went on to complete a four-year Masters's diploma in Osteopathic Manipulative Sciences at the Canadian Academy of Osteopathy. During both his undergraduate and osteopathic studies, Christiaan worked as a personal trainer, training clients of all different levels and demographics.
Christiaan believes in the body's innate ability to self-heal and self-regulate, as described by the founder of Osteopathy in 1874; Andrew Taylor Still. Christiaan follows the principle that imbalances in the human structure contribute to or are directly related to the development and/or maintenance of disease. Through treatment, Christiaan emphasizes the relationship between the structure and function of the human body.
Using various principles-based manual techniques, Christiaan focuses on facilitating the health of joints and muscles through treatment, helping to strengthen the framework of the body. Understanding and adjusting the anatomical unity of the human structure to restore proper body mechanics, nerve impulses, and the circulation of body fluids is his goal. Christiaan is passionate about helping his patients get back to the lives they want to live, whatever that may be. He has had ample experience treating patients of all demographics, including the geriatric and pediatric populations. Christiaan applies various techniques to his treatments, including cranial-sacral therapy and visceral work.
LOCATION:

University & King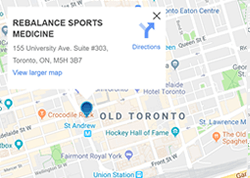 155 University Ave Suite #303
T:
(416) 306-1111
E:
[email protected]