Claudia Choi


RMT, B.Kin, PTS

Both Locations
Registered Massage Therapist
Sports Massage
Certified Fascial Stretch Therapist
Certified Personal Trainer
---
---
Claudia pursued Registered Massage Therapy to be able to help individuals move and feel better in their everyday lives.
She completed an undergraduate degree in Kinesiology at the University of Toronto and is a certified personal trainer as well as Fascial stretch therapy (FST) certified. She uses this knowledge to provide well-rounded care for her patients. Through her own experiences in competitive figure skating and dance, she understands firsthand how injuries and pain can be debilitating. Claudia understands that pain impacts the body beyond the physical symptoms and she believes that it is important to care for the body as a whole.
Claudia enjoys treating a wide variety of injuries and populations. She also has experience with pre and post-operative care, sports injuries, pre and post natal as well as headaches and concussion. Through general Swedish massage techniques, deep tissue work, joint mobilizations, and passive stretching, she creates a treatment session that will tackle primary complaints while providing a feeling of relaxation.
When Claudia is not in the clinic, she enjoys spending time with friends and family, exercising, and being a tourist in her own city!
LOCATIONS:

Yonge & Adelaide
110 Yonge Street Suite #905
T:
(416) 777-9999
E:
[email protected]

University & King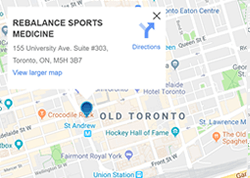 155 University Ave. Suite #303
T:
(416) 306-1111
E:
[email protected]
---
INJURIES & CONDITIONS TREATED:
Elbow Pain
Back Pain
Nerve Pain
Ankle and Foot Pain
Tendonopathy
Muscle Strain
Sprain
Pre and Post Surgical
Repetitive Strain Injuries
AND MANY MORE…