David Evans


PT, Hons. BSc (Kin), MSc(PT)

University & King
Registered Physiotherapist
Manual Therapist
Certified Integrated Dry Needling
CrossFit Coach
---
---
David graduated from McMaster University in 2014 with a Master of Science in Physiotherapy after earning an Honours Bachelor of Science in Kinesiology and Health Science from York University. He has practiced in orthopaedic manual therapy in Halifax, Nova Scotia prior to returning to his home of Toronto.
David is a Functional Dry Needling Practitioner through Evidence in Motion and he is working towards a certification as a Functional Dry Needling Specialist. He also utilizes anatomical Acupuncture through training with the Acupuncture Foundation of Canada. He regularly utilizes manual therapy in treatment with his clients and he is preparing to take his Intermediate Exam in Manual and Manipulative Therapy.
David is a CrossFit enthusiast and Level 1 CrossFit trainer. He has completed continuing education in the Clinical Management of the Fitness Athlete through the Institute of Clinical Excellence. He is trained in the performance, coaching and programming of advanced movements found in programs of fitness athletes. He can also create programs that minimize risk, modify programming during a period of injury and target goals for improving strength and performance.
His practice is client-centered and evidence-based utilizing a combination of tools including manual and manipulative therapy, functional dry needling, exercise, taping, and education to help his clients feel better and reduce their risk of re-injury. David uses the Selective Functional Movement Assessment as part of his evaluation with every client to determine the primary mechanical drivers of his client's pain and dysfunctional movement patterns.
David is an active member of the Canadian Physiotherapy Association and Orthopaedic Division. Outside the clinic, David enjoys an active lifestyle doing CrossFit, weightlifting, hiking and yoga
LOCATION:

University & King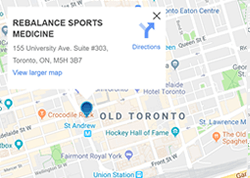 155 University Ave Suite #303T:
(416) 306-1111
E:
[email protected]
---
INJURIES & CONDITIONS TREATED:
Elbow Pain
Back Pain
Nerve Pain
Ankle and Foot Pain
Tendonopathy
Muscle Imbalances
Sprain
Pre and Post Surgical
Fractures
Bursitis
Joint Dislocations
Repetitive Strain Injuries
AND MANY MORE…