Dominique Tersigni


PT, MScPT, BKin

University & King
Physiotherapy Resident
Manual Therapist
Level 1 certified of the Advanced Integrated Musculoskeletal (AIM) Physiotherapy Program
---
---
Dominique graduated from the University of Toronto with a Master of Science in Physical Therapy, and prior to this, completed her Bachelor of Arts (Honours Specialization) in Kinesiology at the University of Western Ontario.
Dominique was always highly active as a competitive gymnast. Her love for competitive sports, passion for learning about the human body and her own personal experiences with sports-related injuries sparked her interest in Physical Therapy. During her years at Western University, Dominique worked with a variety of varsity sports teams as a strength and conditioning intern, where she helped develop strength and conditioning programs and led team workouts.
Dominique is well versed in treating a range of orthopaedic conditions, including: acute sport-related injuries, post-surgical rehabilitation and chronic pain. She uses a combination of manual therapy, soft tissue techniques, taping and exercise to treat her patients. She uses a client-centered approach to develop individualized treatment and exercise plans for her patients.
As a practitioner, Dominique is committed to life-long learning about the art and science of physiotherapy. Dominique has a special interest in advanced manual therapy, having completed Level 1 of the Advanced Integrated Musculoskeletal (AIM) Physiotherapy Program. She plans to further her education by completing more courses in manual therapy, acupuncture and concussion rehabilitation.
In her free time, you can find Dominique going on hikes with her dog, taking part in an exercise class or baking some delicious treats. She also loves exploring new local restaurants!
LOCATION:

University & King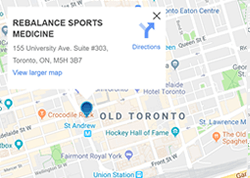 155 University Ave Suite #303
T:
(416) 306-1111
E:
[email protected]
---
INJURIES & CONDITIONS TREATED:
Elbow Pain
Back Pain
Nerve Pain
Ankle and Foot Pain
Tendonopathy
Muscle Strain
Muscle Imbalances
Sprain
Pre and Post Surgical
Fractures
Bursitis
Joint Dislocations
Repetitive Strain Injuries
AND MANY MORE…