Dr. Sarah Kim


MD, CCFP(SEM), FCFP, Dip Sport Med, MScCH

Both Locations
Sport & Exercise Medicine Specialist
Canadian Academy of Sport & Exercise Medicine Diploma Certificate
GP Focused Practice in Sports Medicine, Ministry of Health and Longterm Care
Lecturer, Department of Family & Community Medicine, University of Toronto
Mindfulness, Meditation & Movement Educator
---
Dr. Sarah Kim has been practicing as a certified Sport & Exercise Medicine physician since 2006. She received her Doctor of Medicine degree at McMaster University in 2003 and subsequently completed her Residency in Family Medicine at the University of Toronto in 2005. Following this, she specialized in Sport & Exercise Medicine at the University of Toronto, obtaining her Fellowship Certification in 2006. Dr. Kim holds her Diploma in Sport & Exercise Medicine with the Canadian Academy of Sport and Exercise Medicine. She is also recognized by the Canadian College of Family Physicians and under the Ministry of Health and Longterm Care as a GP Focused Practitioner in Sports & Exercise Medicine.
As the former Head Physician for the National Women's Teams at Canada Basketball, Dr. Kim has extensive field experience in event coverage and traveled internationally for ten years representing Canada with the National Women's Basketball Teams. She is also a regarded educator as a Lecturer for the Department of Family & Community Medicine at the University of Toronto. She is regularly involved in Medical Education for learners at all levels and in the Professional Development of her medical colleagues.
Complementary to her Sports & Exercise Medicine expertise, Dr. Kim is a certified yoga instructor and mindfulness meditation and movement educator. She has a creative practice in Contemporary Dance, with a focus as an Aerial Artist, but integrates hip hop, the Axis Syllabus, and various martial arts as part of her movement research.
Dr. Kim also commutes by bicycle year-round in all kinds of weather and is a core member of Doctors For Safe Cycling.
LOCATIONS:

Yonge & Adelaide
110 Yonge Street Suite #905T:
(416) 777-9999
E:
[email protected]

University & King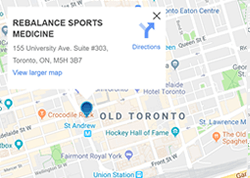 155 University Ave. Suite #303T:
(416) 306-1111
E:
[email protected]
---
INJURIES & CONDITIONS WE SEE:
Elbow Pain
Back Pain
Nerve Pain
Ankle and Foot Pain
Tendonopathy
Muscle Strain
Muscle Imbalances
Sprain
Pre and Post Surgical
Fractures
Bursitis
Joint Dislocations
Rheumatoid Arthritis
Repetitive Strain Injuries
AND MANY MORE…