Hilary Johannson


PT, MPT, Hons. BHSc

University & King
Registered Physiotherapist
Concussion Rehabilitation
Vestibular Rehabilitation
Treatment of BPPV/Dizziness & Vertigo Disorders
---
---
Hilary is a registered physiotherapist with a special interest in concussion and vestibular rehabilitation. She completed her Masters of Physical Therapy from the University of Manitoba in 2014 and Bachelors of Science in 2012. She has a passion for integrating the foundations of science with the principles of rehabilitation to help her patients recover from injury and return to high performance in all aspects of life.
Hilary understands the complex nature of injuries and the many factors involved in health/ wellness and recovery. She aims to educate and empower her patients with the knowledge and skills to be in the driver's seat of their recovery. She utilizes a combination of hands-on manual therapy techniques, exercise and neuromuscular training to restore function and improve performance. Her treatment approach integrates best practice research and the latest technologies to make rehab engaging, goal driven and fun.
Hilary has completed advanced training in concussion, vestibular, and neck rehabilitation, along with various orthopaedic courses including ACL rehab and hip & knee pathologies. She is currently working towards her certification as a Clinical Exercise Physiologist. Additionally, she has attended many national and international conferences on concussion & brain injury. She is also dedicated to advancing the safety of sport through concussion awareness and works with sports organizations, from youth, collegiate, to the professional level, on concussion management programs.
Outside of the clinic, Hilary enjoys an active lifestyle including running, soccer and strength training. Having spent the last 4 years living on the west coast, she is an avid snowboarder and outdoor adventure enthusiast. She balances her active lifestyle with mindfulness practice, reading and learning Spanish.
LOCATION:

University & King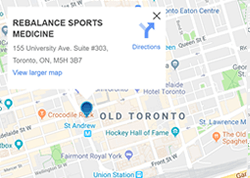 155 University Ave Suite #303
T:
(416) 306-1111
E:
[email protected]
---
INJURIES & CONDITIONS TREATED:
Elbow Pain
Back Pain
Nerve Pain
Hip Pain
Hip Fractures
Snapping Hip Syndrome
Knee Pain
Total Knee Replacements
ACL Injury
Ankle and Foot Pain
Tendonopathy
Muscle Imbalances
Sprain
Pre and Post Surgical
Fractures
Bursitis
Joint Dislocations
Repetitive Strain Injuries
AND MANY MORE…
---
---
---