University & King
Manual Osteopathic Practitioner
Manual Therapist
---
---
Kam received her Master of Practice in Osteopathic Manipulative Sciences (M.OMSc.) from the Canadian Academy of Osteopathy in 2021. Prior to her studies in Osteopathy, she completed her Bachelor of Applied Arts (BA) from Ryerson University. After completing her BA, Kam went on to work as a Senior GIS Analyst in two of the top Commercial Real Estate companies in Canada. She provided Location Intelligence to global clients and participated in generating internal Business Intelligence.
Kam has always been interested in self development. She has participated and coached a number of leadership programs. Her fascination with the mind and body led her to develop a regular yoga practice. She is a graduate from Downward Dog Yoga Studio's Yoga Teacher Training program. Alongside yoga, Kam has also been practicing martial arts for the last 12 years.
Given her education in geography and osteopathy and her mind and body practices, it is evident that the underlying theme behind Kam's way of life is holistic. She recognizes that a holistic approach is dynamic in nature. That is, the only constant is change. These principles are reflective in her Osteopathic practice.
During an Osteopathic treatment, Kam will take a holistic approach by assessing the body layer by layer. She will search for the cause of the symptom through motion testing, palpation, and her knowledge of anatomy and physiology. Based on her assessment, Kam will apply treatment to ease the position of bones and muscles, improve blood and lymphatic flow, calm the nervous system, and improve the vitality of the Patient. The aim of treatment is to improve coordination and integration of the body's structures as a whole. Ultimately, this would enhance the quality of life.
Kam enjoys keeping active, reading, listening to music and spending time with loved ones. Lately, she has been exploring Eastern philosophy, meditation, and cooking.
LOCATION:

University & King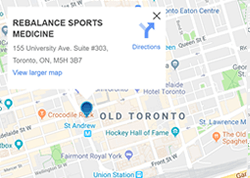 155 University Ave Suite #303T:
(416) 306-1111
E:
[email protected]