Dr. Keirstyn Moran


DC, Hons. BHK

University & King
Doctor of Chiropractic
Myofascial Release Technique (MRT)
---
---
Dr. Keirstyn Moran is a Chiropractor who recently moved back to Toronto. She completed her Doctor of Chiropractic degree here in Toronto at the Canadian Memorial Chiropractic College in 2017. After graduating, she moved up to Muskoka and worked at a clinic that specialized in sports therapy.
Dr. Moran first realized she wanted to become a Chiropractor at the age of 15 when she sustained injuries through dancing competitively for 14 years. While at the University of Ottawa obtaining her Bachelor of Human Kinetics (Hons), she ran varsity cross-country and track. Here she continued to struggle with injuries which drove her to cross train in swimming and cycling. From there she took up racing Triathlons.
Dr. Moran is passionate about learning new skills and techniques through continuing education in order for her treatment style to be evidence-based. Her philosophy is educating her patients so that they are able to feel autonomous in their own health and wellness.
She believes that collaboration between health care professionals is key in order for the patient to receive the best and fastest results. She will work with the patient and other professionals in order to obtain the most optimal results.
Dr. Moran's practice is patient-centered and functionally based. She works through a detailed history and physical exam in order to find the route of the problem and come up with a personalized plan of management for each patient. Her treatment options include mobilizations/adjustments of the spine, rehabilitation exercises, modalities, taping techniques, and soft tissue techniques including, Myofascial Release Therapy (MRT). Through the initial visit and all subsequent visits, she will educate the patient on what she is doing and why in order for the patient to understand the healing process.
When Dr. Moran is not pursuing her passion in chiropractic, she is usually training hard in swimming, cycling and running for upcoming Triathlons. You will also find her picking up all sorts of sports such as soccer, hockey, golf and badminton. Her family and friends are very important in her life and she makes sure to spend a lot of time with them. Most importantly, she is an animal lover with the cutest puppy in the world, Nala.
LOCATION:

University & King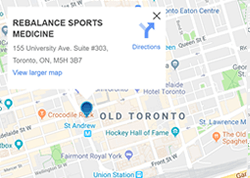 155 University Ave Suite #303T:
(416) 306-1111
E:
[email protected]
---
INJURIES & CONDITIONS TREATED:
Elbow Pain
Back Pain
Nerve Pain
Ankle and Foot Pain
Tendonopathy
Muscle Strain
Muscle Imbalances
Sprain
Pre and Post Surgical
Fractures
Bursitis
Joint Dislocations
Repetitive Strain Injuries
AND MANY MORE…
---
---
---