Kelvin Chan


PT, MSc(PT), Hons. MSc(Kin), BSc(Kin), CSCS

University & King
Registered Physiotherapist
Manual Therapist
Contemporary Medical Acupuncture
Certified Strength & Conditioning Coach
---
---
With a patient-first approach, Kelvin collaborates with individuals to help them achieve their goals. He uses a hands-on approach incorporating a range of techniques tailored to each patient. Filled with compassion and the drive to help others, Kelvin is passionate about empowering clients to reach their full potential.
Kelvin graduated from the University of Toronto with a Bachelor of Kinesiology with Honours in 2016. Throughout his Bachelor's degree, Kelvin was a student therapist for the men's and women's swim team, men's hockey team, and the women's rugby team. Under the mentorship of a physical therapist and an athletic therapist, Kelvin developed a passion for physical therapy, strength and conditioning. He earned his Master's in Professional Kinesiology at the University of Toronto in 2018, where he worked to develop and deliver physical activity sessions for children with disabilities. Kelvin then pursued a Master of Science in Physical Therapy at the University of Toronto in 2020.
As a lifelong learner, Kelvin has been actively pursuing courses in acupuncture, dry needling, and manual therapy to further his skill set. He is certified in providing contemporary medical acupuncture through McMaster University: and is a member of the National Strength and Conditioning Association as a Certified Strength and Conditioning Specialist. Kelvin aims to empower his clients through education and develop personalized treatment plans, using a combination of neurofunctional acupuncture, manual therapy and exercise.
Exploring nature through hiking and camping, he spends many summer weekends in provincial parks. Kelvin enjoys staying active by working out at the gym and swimming laps in the pool. Kelvin has a passion for cooking and food and loves hearing about his patients' recent restaurant experiences.
LOCATION:

University & King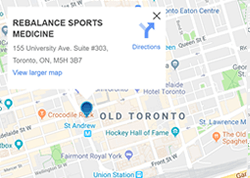 155 University Ave Suite #303
T:
(416) 306-1111
E:
[email protected]
---
INJURIES & CONDITIONS TREATED:
Elbow Pain
Back Pain
Nerve Pain
Ankle and Foot Pain
Tendonopathy
Muscle Strain
Muscle Imbalances
Sprain
Pre and Post Surgical
Fractures
Bursitis
Joint Dislocations
Repetitive Strain Injuries
Running Injuries
AND MANY MORE…