Dr. Kessem Raphael


DC, BSc(Kin)

University & King
Doctor of Chiropractic
Myofascial Release Technique (MRT)
Custom Orthotics
Athletic Taping
---
---
Dr. Kess earned her Doctor of Chiropractic degree from the Canadian Memorial Chiropractic College. Prior to that, she completed her Bachelor of Science in Kinesiology at Queen's University.
Dr. Kess adopts a holistic and functional approach to healthcare. She believes in examining the way her patients move and function in order to not only alleviate pain but also prevent future injuries. Her background in athletics allows her to assess her patients' movements and provide guidance on how to maintain optimal health through a healthy and active lifestyle. Having played various sports herself and working with varsity athletes at Queen's University, Dr. Kess possesses a firsthand understanding of being able to move in an optimal, pain-free manner is not only essential for sports performance but also for everyday activities and overall quality of life.
Her areas of expertise include treating a wide range of conditions such as joint discomfort, muscular soreness, and enhancing functional movement and athletic performance. Dr. Kess takes a comprehensive and evidence-based approach to care and treats each patient as an individual, considering their unique needs and goals. She uses various manual therapy techniques to improve joint mobility and alleviate muscle tension. Through hands-on treatment, she aims to provide immediate relief and facilitate long-term improvements for her patients.
Outside of her clinical practice, Dr. Kess enjoys spending time outdoors, baking, traveling, and watching the Raptors.
LOCATION:

University & King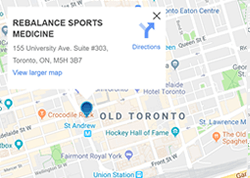 155 University Ave Suite #303
T:
(416) 306-1111
E:
[email protected]
---
INJURIES & CONDITIONS TREATED:
Elbow Pain
Back Pain
Nerve Pain
Ankle and Foot Pain
Tendonopathy
Muscle Strain
Muscle Imbalances
Sprain
Pre and Post Surgical
Fractures
Bursitis
Joint Dislocations
Repetitive Strain Injuries
AND MANY MORE…