Maria Artiuch


PT, MSc(PT), Hons. BKin

University & King
Registered Physiotherapist
Pelvic Health Physiotherapist
Certified Integrated Dry Needling
---
---
Maria received her Masters of Physiotherapy in 2011 at the University of Queensland in beautiful Brisbane Australia. Prior to this, she completed her Bachelor of Kinesiology at the University of Calgary. Following her graduation from physiotherapy, Maria decided to stay in Australia for a few years to work for a private practice. She gained experience with a wide spectrum of clients including acute and chronic musculoskeletal conditions, neurological conditions, pre- and post- orthopedic surgeries, chronic pain, sports injuries and women's health.
Maria is passionate about physiotherapy and takes continuing education courses to further advance her knowledge to ensure her choice of treatment is evidence based. She has completed coursework to further her knowledge in dry needling, spinal manipulation, K taping, headache management, concussion management, pilates, and pelvic health.
Maria likes sharing her enthusiasm for healthy living and fitness. She actively listens to her clients and provides the education they need to have a successful recovery and achieve their goals. To achieve the best outcome, she uses an individualized treatment approach that combines patient education, manual therapy, soft tissue release, taping, dry needling and specific exercise prescription. Her aim is to restore mobility, re-establish appropriate movement patterns, improve function, and minimize the likelihood of injury re-occurrence.
Maria enjoys living an active lifestyle. If she is not at the gym, she is probably doing something outdoorsy be it snowboarding, hiking, running or cycling.She is also a keen traveler, and has extensively explored Canada, USA, Europe, Central America, Asia, Australia and New Zealand.
LOCATION:

University & King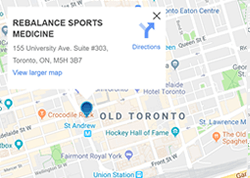 155 University Ave Suite #303
T:
(416) 306-1111
E:
[email protected]
---
INJURIES & CONDITIONS TREATED:
Elbow Pain
Back Pain
Nerve Pain
Ankle and Foot Pain
Tendonopathy
Muscle Strain
Muscle Imbalances
Sprain
Pre and Post Surgical
Fractures
Bursitis
Joint Dislocations
Repetitive Strain Injuries
AND MANY MORE…
---
---
---