Both Locations
Registered Massage Therapist
Sports Massage Therapist
Fascial Stretch Provider
Cupping Therapy
---
---
Mark has been practicing as a Registered Massage Therapist and Sports Massage Therapist since 2014. Prior to becoming an RMT, he spent 12 years in the Film and Television industry, producing commercials at the tail end of his career in media.
His personal sports injuries and successful recovery from them have led him to pursue a career in health care. He graduated from the Canadian College of Massage and Hydrotherapy in 2013, and even went back to teach there for over 3 years.
Mark's therapeutic experience and skill set is quite diversified. He uses a unique blend of Swedish & Shiatsu Massage, Osteopathic Joint Mobilizations, Active Release & Myofascial Stretch/Release techniques, and Cupping Therapy to address a patient's injuries or concerns.
He takes advantage of the uniqueness Massage Therapy has to offer, and can address different domains of recovery in his treatments.
Whether you are looking for preventative maintenance to stay on track with your training plan, suffering from an acute or chronic sports injury, or need a restful sleep to assist in recuperation, through comprehensive assessment, Mark will develop a Massage Therapy treatment plan that is tailored to your therapeutic needs.
When Mark is not in his treatment room, you can find him occasionally on a curling rink, on the beach playing volleyball in the summer, or bombing around the streets of Toronto training for his next road race.
LOCATIONS:

Yonge & Adelaide
110 Yonge Street Suite #905
T:
(416) 777-9999
E:
[email protected]

University & King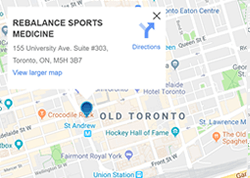 155 University Ave. Suite #303
T:
(416) 306-1111
E:
[email protected]
---
INJURIES & CONDITIONS TREATED:
Elbow Pain
Back Pain
Nerve Pain
Ankle and Foot Pain
Tendonopathy
Muscle Strain
Sprain
Pre and Post Surgical
Repetitive Strain Injuries
AND MANY MORE…
---
---
---