Miranda Hall


PT, FCAMPT, MSc(PT), BSc(Kin), OMP

University & King
Registered Physiotherapist
Fellow of the Canadian Academy of Manipulative Physiotherapy
Osteopathic Manual Therapist
Craniosacral Therapy
Visceral Manipulation
---
---
Miranda Hall is an FCAMPT physiotherapist practicing in downtown Toronto at the University & King location of Rebalance Sports Medicine. She graduated with a Bachelor of Science in Kinesiology from York University and then completed her Master of Science in Physical Therapy from the University of Toronto. Miranda then went on to complete the highest level of training in orthopaedic manual physiotherapy and received the designation of Fellow of the Canadian Academy of Manipulative Therapy (FCAMPT). As she values being able to approach injury or illness from multiple perspectives to find the most effective and timely resolution, she then went on to study Manual Osteopathy at the Canadian College of Osteopathy in Toronto. She completed her coursework and exams in 2017 and is now completing her thesis titled 'The Comparative Effect of Intention versus the Compression of the Fourth Ventricle Technique on Heart Rate Variability in Healthy Adults'. She incorporates osteopathic philosophies and practices into her treatments including bringing awareness to the fact that the body has an innate ability to heal and that a big role that she plays as a therapist is to support that natural ability.
Miranda is a member of the Canadian Physiotherapy Association (CPA) and an active member of their Orthopaedic Division and gives back to her profession by providing mentorship to physiotherapists pursuing their advanced manual therapy designation.
Miranda has also studied life coaching to add resources to address beliefs and perspectives that bring patients into fight or flight, adding to the hormonal cascades which over the long term contribute to systemic inflammation and repetitive inflammatory injuries and illnesses. She facilitates mindfulness groups, does one-on-one life coaching and is a transformational speaker. She truly values addressing health and wellness from multiple levels as we are such multifaceted and interconnected beings.
Miranda enjoys being outside and exploring nature. In her spare time, she likes to snowboard kitesurf, surf, SUP, hike, do yoga, qi gong and meditate. She is always exploring the outdoors with friends locally and travelling to destinations to do these activities and see the beautiful natural landscapes of the world.
LOCATION:

University & King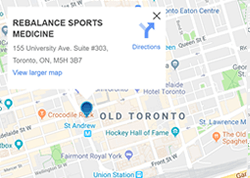 155 University Ave Suite #303T:
(416) 306-1111
E:
[email protected]
---
INJURIES & CONDITIONS TREATED:
Elbow Pain
Back Pain
Nerve Pain
Ankle and Foot Pain
Tendonopathy
Muscle Strain
Muscle Imbalances
Sprain
Pre and Post Surgical
Fractures
Bursitis
Joint Dislocations
Repetitive Strain Injuries
AND MANY MORE…
---
---
---