University & King
Registered Massage Therapist
Sports Massage Therapist
---
---
Richard Ly is a Registered Massage Therapist in downtown Toronto who pursued a career in healthcare to improve his patient's quality of life and to help promote recovery and pain relief.
After working as a Personal Trainer and completing an undergraduate degree in Kinesiology at York University, Richard decided to follow his passion for health and wellness by continuing his education at Sutherland-Chan School of Massage Therapy. He uses the knowledge gained from both resources to provide a patient-centered treatment and aims to provide the best quality of care for his patient's health goals.
Through his own experience from sport-related injuries, Richard learned the importance of self-care and how injuries can be debilitating to one's quality of life. He believes in a well-rounded approach to care and achieves this through a combination of manual therapy, exercise and mindfulness education. During his treatment sessions he utilizes a variety of techniques which include Swedish massage techniques, deep tissue work, joint mobilization, and movement techniques to address a patient's area of concern. However, he firmly believes that consistent movement aids in leading to one's recovery and educates patients on what they can do to achieve their goals.
Outside of clinic, you can find Richard weightlifting, trying out new restaurants, or in a café doodling in his sketchbook.
LOCATION:

University & King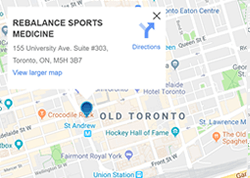 155 University Ave Suite #303
T:
(416) 306-1111
E:
[email protected]
---
INJURIES & CONDITIONS TREATED:
Elbow Pain
Back Pain
Nerve Pain
Ankle and Foot Pain
Tendonopathy
Muscle Strain
Sprain
Pre and Post Surgical
Repetitive Strain Injuries
AND MANY MORE…