Dr. Tracy Debi


DC, BSc, Acupuncture
REFER TRACY TO A FRIEND

University & King
Doctor of Chiropractic
Medical Acupuncture
Active Release Techniques (ART®) Provider
---
---
Dr. Tracy Debi graduated with an Honours Bachelor of Science in Kinesiology from the University of Waterloo. She then went on to earn her Doctor of Chiropractic at New York Chiropractic College (NYCC). During her time at NYCC, she won a scholarship to intern at the Veteran's Hospital in Miami, Florida. During this intern, she was exposed to many complex and fascinating cases which accelerated her skills and knowledge in pain science.
Dr. Debi has obtained her contemporary medical acupuncture certification from McMaster University and has taken a number of continuing education courses which include: Selective Functional Movement Assessment (SFMA) Level 1, Rocktape (therapeutic taping), Active Release Therapy, Integrated Kinetic Neurology, Athletic Movement Assessment Lower Extremity, Dynamic Neuromuscular Stabilization (DNS) and Clinical Neurodynamic Solutions. She is also Webster Technique certified, which applies specific chiropractic techniques for pregnant patients and a Certified Functional Strength Coach (CFSC).
Dr. Debi understands that there are more than the individual parts of our body and she approaches the care and conditioning of her patients with an integrative approach. During a visit with Dr. Tracy you can expect that she will actively listen to your concerns, perform a comprehensive movement assessment, provide a diagnosis and discuss the best treatment options. Treatment options may include: manual adjustments, gentle instrument assisted adjustments, soft tissue therapy, practical neuroscience, taping, medical acupuncture, health education and movement therapy.
When not in the office, you'll likely find her staying active at the gym, exploring nature in an around Toronto, or catching up with a good book.
LOCATION:

University & King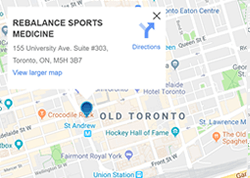 155 University Ave Suite #303
INJURIES & CONDITIONS TREATED:
Elbow Pain
Hand & Wrist Pain
Back Pain
Ankle and Foot Pain
Nerve Pain
Muscle Strains
Sprains
Muscle Imbalances
Tendonopathy
Pre and Post Surgical
Fractures
Bursitis
Joint Dislocations
Osteoarthritis
Repetitive Strain Injuries
AND MANY MORE…