Wesley Lai


PT, MSc(PT), MSc(Genetics), BMSc

University & King
Registered Physiotherapist
Manual Therapist
Contemporary Medical Acupuncture
Special Interest in Hand & Wrist Pain
---
---
Wesley graduated from Western University with a Bachelor of Medical Science degree Honours Specialization in Physiology in 2012. Upon completing his undergraduate degree, he pursued a career in research where he obtained his Master of Science degree in Genetics. Wesley conducted his research at the University of Toronto, in affiliation with the Hospital for Sick Children. It was through his research that he discovered his passion for Physiotherapy and then pursued a Master of Science degree in Physiotherapy at the University of Toronto. Since then, Wesley has taken numerous post-graduate courses in manual therapy, contemporary medical acupuncture, soft tissue release, neuro-proprioceptive taping, concussion management, and many more to deliver the highest quality of care to his clients. Wesley has also received his Neurofunctional Sports Performance Practitioner Certification through the McMaster University Contemporary Medical Acupuncture Program.
Prior to joining the Rebalance Sports Medicine team, Wesley practiced in Ottawa where he treated all areas of the body but obtained valuable experience in successfully treating complex injuries of the low back, neck, and thoracic spine. He also worked collaboratively with Ottawa's hand surgeons to successfully rehabilitate complex hand injuries. Wesley currently has a special interest in treating upper extremity injuries (ie. shoulder, elbow, hand and wrist), and has acquired extensive experience in rehabilitating these injuries. Wesley has experience treating people of all athletic ability and regardless of their abilities, will meet all his clients with empathy, compassion, patience, and honesty. Wesley prides himself in being able to connect with his client's on a personal level and views his relationship with his clients as a therapeutic alliance where he listens to you, understands your views and diligently works with you to achieve your goals.
Aside from providing injury based care, which he views is a reactive approach to treatment, Wesley also provides performance based physiotherapy, where he works with his clients to optimize their movement capabilities to prevent future injury and to optimize physical function. By doing so, clients are able to live their lives to the fullest and enjoy a higher quality of life.
In his spare time, Wesley enjoys golfing, rock climbing (bouldering and top roping), skiing, hiking with his dog, camping, running, and reading.
LOCATION:

University & King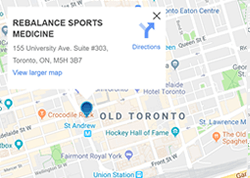 155 University Ave Suite #303
T:
(416) 306-1111
E:
[email protected]
---
INJURIES & CONDITIONS TREATED:
Elbow Pain
Back Pain
Nerve Pain
Ankle and Foot Pain
Tendonopathy
Muscle Strain
Muscle Imbalances
Sprain
Pre and Post Surgical
Fractures
Bursitis
Joint Dislocations
Repetitive Strain Injuries
AND MANY MORE…
---
---
---