Dr. Armin Chamanchi


DC, BHSc(Kin)

University & King
Doctor of Chiropractic
Myofascial Release Technique (MRT)
Custom Orthotics
---
---
Dr. Armin Chamanchi is a health and wellness enthusiast. From a young age he was interested in sports and was inspired by professional athletes to learn about human movement. This later led him to pursue a career as a healthcare practitioner. Throughout his years at the Canadian Memorial Chiropractic College, he would spend his free time watching sports, playing golf and practicing his manual therapy skills. He is dedicated to the science and art of chiropractic, and its relationship to health and performance.
Dr. Armin will provide his undivided attention to you as a patient with a detailed physical examination, diagnosis, personalized care plan and hands-on manual therapy. His evidence-based approach is comprised of spinal and extremity manipulation, mobilizations, myofascial release technique (MRT), proprioceptive neuromuscular facilitation stretching (PNF), and strengthening exercises.
Dr. Armin is patient-centered, functionally based and motivated to help you attain your goals. He is passionate about getting his patients to feel and move better. While providing them with education on how to build a strong foundation of lifestyle choices for ongoing wellness throughout their lives.
LOCATION:

University & King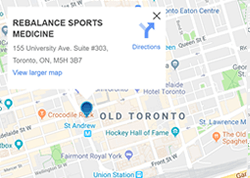 155 University Ave Suite #303
T:
(416) 306-1111
E:
[email protected]
---
INJURIES & CONDITIONS TREATED:
Elbow Pain
Back Pain
Nerve Pain
Ankle and Foot Pain
Tendonopathy
Muscle Strain
Muscle Imbalances
Sprain
Pre and Post Surgical
Fractures
Bursitis
Joint Dislocations
Repetitive Strain Injuries
AND MANY MORE…