Dr. Emily Tam


MD, FRCPC, H.B.Sc

Both Locations
Physiatrist (Physical Medicine and Rehabilitation) practicing in musculoskeletal and sports medicine
Consultant Staff at Toronto Rehab-UHN
Lecturer at the University of Toronto
---
Dr. Emily Tam graduated from the University of Toronto with an H.B.Sc. She obtained her undergraduate medical degree (M.D.) at McMaster University. She completed the five-year residency program in Physical Medicine & Rehabilitation (Physiatry) at the University of Toronto and is a Fellow of the Royal College of Physicians & Surgeons of Canada. Dr. Tam is a Consultant Staff at Toronto Rehab-UHN and has a clinical adjunct appointment as Lecturer at the University of Toronto with an academic interest in medical education.
As a physiatrist, Dr. Tam sees a variety of patients with general rehabilitation, musculoskeletal, and stroke rehabilitation issues at her clinics and recognizes the importance of working closely with a rehabilitation team; she has focused on building cooperative relationships between various members of healthcare teams and patients to optimize patient care.
Her primary clinical practice area at Rebalance is musculoskeletal and sports medicine, and she has a diverse interest and experience in sports injuries affecting those of all ages who play sports at various levels. Dr. Tam enjoys staying active, and her participation in sports has come with an understanding of injuries sustained in tennis, rock climbing (lead climber), and dragon boating, as well as an appreciation for the challenges one may face during the recovery process, rehabilitation, and return to activity.
LOCATIONS:

Yonge & Adelaide
110 Yonge Street Suite #905
T:
(416) 777-9999
E:
[email protected]

University & King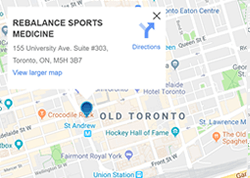 155 University Ave. Suite #303
T:
(416) 306-1111
E:
[email protected]
---
INJURIES & CONDITIONS WE SEE:
Elbow Pain
Back Pain
Nerve Pain
Ankle and Foot Pain
Tendonopathy
Muscle Strain
Muscle Imbalances
Sprain
Pre and Post Surgical
Fractures
Bursitis
Joint Dislocations
Rheumatoid Arthritis
Repetitive Strain Injuries
AND MANY MORE…