Christopher Nedelko


PT, MSc(PT), Hons BA(Kin), FMS

University & King
Registered Physiotherapist
Manual Therapist
Medical Acupuncture/Dry Needling
Level 2 Certified Functional Movement Systems
Special Interest in Sport Related Injury
---
---
Chris is a Physiotherapist specializing in manual therapy and exercise techniques in downtown Toronto. He completed his Master of Science in Physiotherapy with honors at the University of Brighton, United Kingdom. Previously, he completed a Bachelor of Arts in Kinesiology with honors at Wilfrid Laurier University and became a Registered Kinesiologist.
As a Registered Kinesiologist, Chris was heavily involved in rehabilitating various injuries through strength training and exercise. He had a focus on helping people recover their strength to be able to do everyday activities and get back to their active lifestyle. He further specialized in movement screening for athletes and non-athletes alike, by taking the Functional Movement Systems course.
Chris is devoted to continuing education and evidence-based treatment and will continue to take courses throughout his career to best serve his patients. He completed his dissertation on the effects of strength training for adults with acute nonspecific low back pain. Through his research, Chris has gained an understanding of how to manage low back pain and how a biopsychosocial approach or taking someone's entire clinical picture into account can help manage pain. Chris enjoys researching the latest evidence-based articles and treatment methods which has advanced his clinical reasoning, evidence-based practice, and quality of care. He understands that each patient has individual needs and works with them to achieve their specific goals.
Chris has special interest in shoulder pain, low back pain and chronic pain. He utilizes a thorough assessment that looks for all contributing factors causing the pain and not just the source. Chris is passionate about sharing his knowledge, experience, and expertise with his clients. He believes every treatment plan is unique and uses a combination of manual therapy, soft tissue release, medical acupuncture/dry needling, modalities and exercise. He empowers his clients through education and ensures they are equipped with the best tools to manage themselves.
When not at the clinic, Chris enjoys cooking, learning a new song on the guitar, travelling and playing sports.
LOCATION:

University & King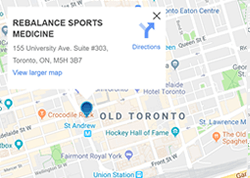 155 University Ave Suite #303
T:
(416) 306-1111
E:
[email protected]
---
INJURIES & CONDITIONS TREATED:
Elbow Pain
Back Pain
Nerve Pain
Ankle and Foot Pain
Tendonopathy
Muscle Imbalances
Sprain
Pre and Post Surgical
Fractures
Bursitis
Joint Dislocations
Repetitive Strain Injuries
Running Injuries
AND MANY MORE…