Dennis Jaglal


B.Kin, M.OMSc

University & King
Osteopathic Manual Practitioner
Manual Therapist
Member of the Ontario Osteopathic Association
---
---
Dennis is a certified Osteopathic Manual Practitioner in Ontario. He began his career as a Kinesiology graduate from the University of Toronto and an Exercise Science and Lifestyle Management graduate from Humber College.
Before joining Rebalance Sports Medicine, Dennis worked as a dedicated Kinesiologist and personal trainer, gaining valuable experience in assisting individuals with their physical fitness goals and rehabilitation needs. Dennis believes in the body's innate ability to self-heal and self-regulate. Thus, he focuses on a treatment plan that helps strengthen the body's framework by using various principle-based manual techniques.
Beyond his professional endeavors, Dennis embodies a lifestyle of holistic well-being. He actively participates in various physical activities that promote a healthy lifestyle. Basketball allows him to stay connected to his love for competitive sports, strength training helps him maintain his own physical fitness, and yoga contributes to his overall mind-body balance.
LOCATION:

University & King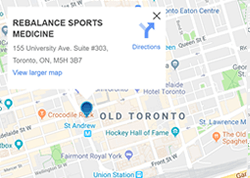 155 University Ave Suite #303
T:
(416) 306-1111
E:
[email protected]