Desiree Caceres Ramirez


RMT

University & King
Registered Massage Therapist
Cupping Therapy
Sports Massage Therapist
Pre & Post Natal Massage
---
---
Desireé is a graduate from the Centennial College Massage Therapy program. She decided to pursue a career in health care because of her passion to help others achieve a pain free life.
Through her own experience in gymnastics, Desireé has learned the importance of mobility. She utilizes a combination of deep tissue massage, trigger point therapy, PNF (Proprioceptive neuromuscular facilitation) and passive stretching to decrease muscle tension and increase mobility.
Desireé believes that no treatment is complete without proper self care, so she incorporates remedial exercises and stretches to help extend the benefits of your massage.
During her time as an RMT, she has worked with infants as young as 3 months old, teenagers and adults.
When Desireé is not treating, she enjoys doing yoga, painting or you can catch her taking pictures around the city.
LOCATION:

University & King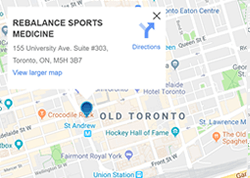 155 University Ave Suite #303
T:
(416) 306-1111
E:
[email protected]
---
INJURIES & CONDITIONS TREATED:
Elbow Pain
Back Pain
Nerve Pain
Ankle and Foot Pain
Tendonopathy
Muscle Strain
Sprain
Pre and Post Surgical
Repetitive Strain Injuries
AND MANY MORE…
---
---
---