Jennifer Waddell


PT, MPT, Hons. BSc (Kin)

University & King
Registered Physiotherapist
Manual Therapist
Medical Acupuncture/Dry Needling
Special Interest in Dance and Sport Related Injury
---
---
Jenn is a registered physiotherapist at Rebalance Sport Medicine's King & University location. She graduated from the University of Western Ontario with a Master's in Physical Therapy in 2021 after earning a Bachelor of Science in Human Kinetics from the University of Guelph in 2019.
Jenn's practice regularly emphasizes the importance of movement with a strong focus on education while incorporating both manual therapy and progressive therapeutic exercise prescription. She provides and cultivates an evidence-based, personalized treatment plan that is geared towards her patient's specific goals. Jenn ensures that she is working alongside her patients and is passionate about empowering them to take an active role in their rehabilitation journey to reach their goals. She is a firm believer that movement is medicine and works to inform and motivate her patients to not only get active but to maintain that active lifestyle after they are done with treatment.
During her time at the University of Guelph, Jenn held a position as a Student Athletic trainer for the Varsity Men's Basketball team where she acted as a first responder to treat acute injuries and provided athletic taping to players. Additionally, she has 18 years of competitive dance experience and is excited to incorporate her knowledge of movement and passion for sports-related injuries into her practice.
Jenn is currently certified to perform Acupuncture and Dry Needling and is Level 1 certified in manual therapy, through the Orthopaedic Division. She is committed to continuing her education and plans to progress through the CAMPT level system, as well as, achieve certifications in Pelvic Health.
Outside the clinic, Jenn enjoys staying active through taking dance classes, hiking, playing various sports and loves to travel!
LOCATION:

University & King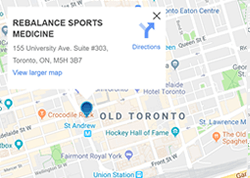 155 University Ave Suite #303
T:
(416) 306-1111
E:
[email protected]
---
INJURIES & CONDITIONS TREATED:
Elbow Pain
Back Pain
Nerve Pain
Hip Pain
Hip Fractures
Snapping Hip Syndrome
Knee Pain
Total Knee Replacements
ACL Injury
Ankle and Foot Pain
Tendonopathy
Muscle Imbalances
Sprain
Pre and Post Surgical
Fractures
Bursitis
Joint Dislocations
Repetitive Strain Injuries
AND MANY MORE…