Dr. David Lawrence


MD, CCFP(SEM), Dip Sport Med, MPH (Cand)

Both Locations
Sport & Exercise Medicine Specialist
Canadian Academy of Sport & Exercise Medicine Diploma Certificate
GP Focused Practice in Sports Medicine, Ministry of Health and Longterm Care
Lead Primary Care Physician for the Toronto Blue Jays
---
Dr. David Lawrence is a sports & exercise medicine physician and rural emergency physician. He completed his medical school, family & community medicine residency, and sports & exercise medicine fellowship at the University of Toronto.
Dr. Lawrence is recognized under the Ministry of Health and Longterm Care as a GP Focussed Practitioner in Sports Medicine. He is currently completing a Masters of Public Health in Epidemiology at the Dalla Lana School of Public Health. Dr. Lawrence hold's hospital privileges at Toronto Rehabilitation Institute (University Health Network) and Haliburton Highlands Health Services: Hospital (Haliburton, Ontario).
Dr. Lawrence has clinical experience working with athletes of all ages and levels of experience. Dr. Lawrence has worked with many elite and professional athletes and has volunteered at the Rio 2016 Summer Olympic Games, 2015 Pan Am and Parapan Am Games, and the 2013 FISU Winter Games (Kazan, Russia).
He is also the Lead Primary Care Sports Medicine Physician for the Toronto Blue Jays and Toronto WolfPack RLFC.
Dr. Lawrence has a clinical interest in the management of sports-related concussion. He is actively involved in academia, research, and clinical teaching. His research interests include sports-related concussion and injury prevention.
Dr. Lawrence has published extensively in high-impact sports medicine journals and has presented his findings at international sports medicine, concussion, and brain injury conferences. Dr. Lawrence is on the scientific advisory board for the EMPWR Foundation: a charitable organization created to advance the recovery of concussion injuries.
LOCATIONS:

Yonge & Adelaide
110 Yonge Street Suite #905T:
(416) 777-9999
E:
[email protected]

University & King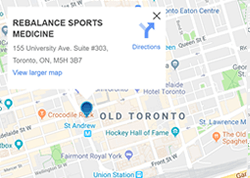 155 University Ave. Suite #303T:
(416) 306-1111
E:
[email protected]
---
INJURIES & CONDITIONS WE SEE:
Elbow Pain
Back Pain
Nerve Pain
Ankle and Foot Pain
Tendonopathy
Muscle Strain
Muscle Imbalances
Sprain
Pre and Post Surgical
Fractures
Bursitis
Joint Dislocations
Rheumatoid Arthritis
Repetitive Strain Injuries
AND MANY MORE…