University & King
Registered Acupuncturist (R.Ac)
Certified in NADA Protocol
Cupping Therapy
Cosmetic Acupuncture
---
---
Kirsten Kirby is a Registered Acupuncturist at Rebalance Sports Medicine in downtown Toronto. She began her education in nursing, although a valuable and rewarding experience, she quickly sought out alternative treatments in care. Traditional Chinese Medicine became her only focus.
She began her training at the International College of Traditional Chinese Medicine in Vancouver in 2010 with a focus on Herbal medicine. Kirsten recently graduated from Eight Branches Academy of Eastern Medicine with a Diploma in Acupuncture and Moxibustion. She is also certified in National Acupuncture Detoxification Association (NADA) Protocol which is a treatment that stimulates the Parasympathetic system to completely relax the body for Trauma relief and Detoxification.
Over the course of Kirsten's education in western and eastern medicine, she took a position working as a personal trainer directly with Jase Graber and The Shifter system. Kirsten helped athletes train by strengthening their balance & reflexes to promote faster reaction times, preventing falls and injury.
Kirsten has spent the last 10 years perfecting her practice and learning different methods of bodywork and pain relief from masters in their field. She believes that health and well-being can be achieved by maintaining balance in the body, safe-guarding against depleting your energy while promoting the constant flow of qi and blood. Kirsten utilizes the "Balance Technique" to reduce pain and promote healing; demonstrated best in acute injuries. Gua Sha for sports therapy and myofascial release. Cupping for muscle fatigue & pain, spot treatment and body support. She also stimulates all of the body's systems with Acupuncture that leads to faster healing and preventing disease.
Kirsten is also passionate about offering gentle, non-invasive and non-surgical facial enhancement using cosmetic acupuncture. She uses Gua Sha, cupping, and facial acupuncture to achieve a rejuvenated appearance on her patients.
In her downtime Kirsten is an avid sailor and Hiker. She enjoys being with her family and staying active with Yoga, Eldoa and isometric training.
LOCATION:

University & King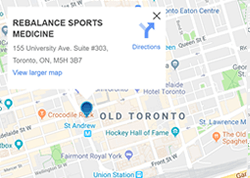 155 University Ave Suite #303
T:
(416) 306-1111
E:
[email protected]
---
---
---