Remi Awoniyi


Registered Massage Therapist
REFER REMI TO A FRIEND

University & King
Registered Massage Therapist
Table Thai Practitioner
Indie Head Massage
Pre/Post Natal Care
---
---
Remi is a Registered Massage Therapist who utilizes a variety of massage techniques that are designed to relieve the pain and stresses related to day to day living, as well as in the rehabilitation of physical injuries from trauma.
With a background that includes treating MVA patients in various stages of recovery, Remi has first hand experience in the treatment of patients with recent acute injuries but also specializes in deep tissue massage for the treatment of chronic or dated injuries.
Some of the techniques Remi regularly utilizes in her treatments include, stretching using Thai Massage techniques (often described as yoga within massage), Fascial stretching as well as the use of heat or cold to relieve aches and pain. She will sometimes utilize Indie head massage to aid in the improvement of clarity and mood.
Remi is a huge believer in providing simple take home Remedial Exercise so that her clients can contribute to their own recovery and pain management in between massage visits.
Remi caters to clients of all ages including children and seniors and she has an extensive background in pre and post-natal care. Her biggest strengths are her knowledge of Body Mechanics and her patience in explaining 'cause and effect' to her more inquisitive clients.
When not treating, she is an avid cyclist and a restaurant foodie, which makes the city of Toronto her perfect playground.
LOCATION:

University & King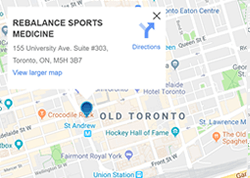 155 University Ave Suite #303
INJURIES & CONDITIONS TREATED:
Elbow Pain
Hand & Wrist Pain
Back Pain
Ankle and Foot Pain
Nerve Pain
Muscle Strains
Sprains
Tendonopathy
Pre and Post Surgical
Osteoarthritis
Repetitive Strain Injuries
AND MANY MORE…