Shahrzad Ebrahimi


BSc(kin), RMO, DOMP

University & King
Osteopathic Manual Practitioner
Manual Therapist
Member of College of Registered Manual Osteopaths of Canada
---
---
Shahrzad's interest and curiosity of the human body has been ongoing for many years. She started her deep dive of learning about the human body while receiving a specialized honours degree in Kinesiology from York University. Her first exposure to osteopathy occured while she was volunteering as a kinesiology student. She was able to see first hand how Osteopathy can decrease pain and improve patients' quality of life. She was also able to experience the benefit of Osteopathy in her own body as she was able to heal and recover from personal injuries with the support of an Osteopath. These experiences inspired her to pursue post graduate education in Osteopathy. She continued her education at the National Academy of Osteopathy in Toronto to become a manual osteopathic practitioner. She graduated with distinction from her Osteopathy program and is now an active member of Osteopathy Chronic Pain Clinics of Canada (OCPCC) as well as the Canadian Alliance of Alternative Medicine (ACMA). In addition, Shahrzad is registered with College of Registered Manual Osteopaths of Canada (CRMO).
She is very passionate about her mission to help individuals who suffer from musculoskeletal pains and injuries. She works hard to find the root cause of her patients injuries in order to help them reach a pain free state. She empowers her patients to implement simple techniques into their daily lives to keep the pain away. Shahrzad's approach is gentle yet effective. She helps individuals who have had unsuccessful treatments in the past and she offers a style of manual therapy that is unique yet complementary with physiotherapy and chiropractic approaches.
Shahrzad is a lifelong learner. She completed a research project and thesis looking at how osteopathic treatments can help patients with sciatic pain with a specific focus on strengthening joints, muscles and the musculoskeletal framework through osteopathic joint mobilization techniques, osteopathic muscle energy techniques and soft tissue manipulations.
Shahrzad prides herself in providing exceptional osteopathic treatments to her patients so that they experience a better quality of life by decreasing their pain level, muscle stiffness/spasm and joint restrictions as well as increasing their range of motion, increasing their functional ability and improving their overall health. She welcomes you to book an appointment so she can help you as well.
In her free time, she enjoys spending time in nature and playing with her dog as well as socializing with friends and family.
**Please note that that since Osteopathy is not regulated in Ontario yet, insurance billing is complicated. Shahrzad is a member of the ACMA and CRMO which are recognized by most insurance providers in Canada with the exception of Canada Life and Blue Cross. We always recommend checking with your insurance provider in advance to ensure you will be covered. You may also pay out-of-pocket if you are not covered, as the benefit you will obtain working with Shahrzad far outweighs the cost.**
LOCATION:

University & King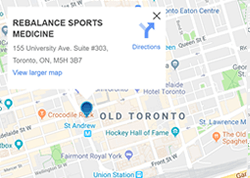 155 University Ave Suite #303T:
(416) 306-1111
E:
[email protected]