Dr. Teddy Kim


DC, BHSc(Kin), Acupuncture

University & King
Doctor of Chiropractic
Medical Acupuncture
Active Release Techniques (ART®) Provider
Movement Assessment and Mobility Specialist
Custom Orthotics
Compression Hosiery
---
---
Dr. Teddy Kim graduated from the University of Waterloo with an Honours Bachelor of Science Degree in Kinesiology. While attending University of Waterloo, Dr. Kim worked as an ergonomic consultant and chiropractor assistant in New York and Toronto. He then went on to obtain his Doctor of Chiropractic Degree at the Canadian Memorial Chiropractic College (CMCC). Dr. Kim has also obtained certification in contemporary medical acupuncture from McMaster University, Titleist Performance Institute for golf related injuries, and Athletic Movement Assessment certification.
Dr. Kim practices a patient centered, evidenced-based and functional approach to not only fix current problems but to prevent future injuries. Each of his patients receives a personalized treatment plan. Dr. Kim treats every one of his patients with a unique blend of treatment options which include chiropractic manipulation/mobilization, medical acupuncture, exercise rehabilitation, athletic taping, health education, modalities, and manual soft tissue therapy (eg. Myofascial Release Technique). He is also educated to assess and provide custom orthotics. Dr. Kim's main goal is to return his patients to pre-injury state and allow them to function optimally, no matter what their age and health status may be.
When he is not working, Dr. Kim stays active by going to the gym and participating in sports such as golf, wrestling, Jiu-jitsu, and motor racing.
LOCATION:

University & King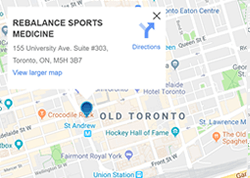 155 University Ave Suite #303
T:
(416) 306-1111
E:
[email protected]
---
INJURIES & CONDITIONS TREATED:
Elbow Pain
Back Pain
Nerve Pain
Ankle and Foot Pain
Tendonopathy
Muscle Strain
Muscle Imbalances
Sprain
Pre and Post Surgical
Fractures
Bursitis
Joint Dislocations
Repetitive Strain Injuries
AND MANY MORE…
---
---
---